Lawry's Perfect Blend Seasoning and Rub for Chicken and Poultry
Liven up your barbequed poultry with Lawry's. Simple sprinkle Lawry's Chicken Rub over chicken or poultry, place in refrigerator for 1/2 hour, then bake or barbeque.
Ingredients: Sea Salt, Modified Food Starch, Garlic, Spices (Including Black Pepper, Paprika, Rosemary, Thyme, Parsley, Celery Seed, and Red Pepper), Sugar, Onion, Partially Hydrogenated Vegetable Oil (Cotton Seed, Soybean), Red Bell Peppers, Tricalcium Phosphate (prevents caking), Natural Flavor, Maltodextrin, Autolyzed Yeast Extract, and Riboflavin (for color).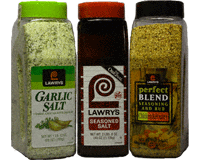 Get our Lawry's Seasoning Collection. The collection contains Lawry's Seasoned Salt, Lawry's Perfect Blend Seasoning and Rub, and Lawry's Garlic Salt.
Net Weight: 24.5oz (1.53lbs) 694g
Lawry'sTM is a registered trademark of Lawry's Foods Inc, Monrovia CA 91016
Tiered Product Pricing
Quantity
Description
Price
Each
Unit Price
$13.76USD
6
6 or More
$12.87USD
24
24 or More
$11.91USD