Tones Sliced Mushrooms 2 x 1.5oz 43g
Freeze Dried Mushrooms for optimum flavor. Set of two containers 1.5oz 43g each. Total net weight 3oz 86g.
For Pizza:
Measure desired amount of freeze dried Tones Sliced Mushrooms.
Spray with just enough cold water to moisten mushrooms.
Garnish pizza with mushrooms.
More liquid can be added to maintain consistency of your dish. To rehydrate, place mushrooms in a sieve and spray with enough cold water to moisten.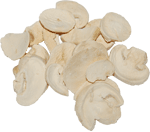 Usage: Exchange 1 cup freeze-dried Tones Mushrooms for 2 cups fresh mushrooms.
Ingredients: Freeze Dried Mushrooms.
Net Weight: 3oz 86g