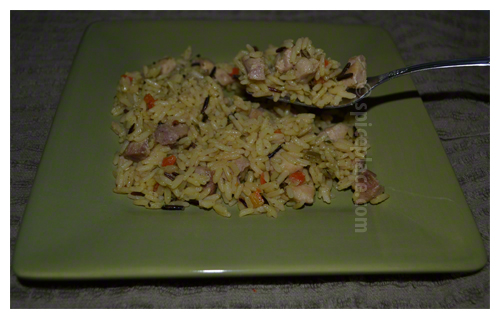 If you are looking for an easy and tasty dinner then this recipe using Zatarains's Lower Sodium Creole Rice Pilaf Mix is something to consider. Easy to make and delicious, low in sodium, and on the table in 30 minutes.
First, measure 2 1/3 cups of water into a 3 quart saucepan. Cover and bring to a boil.
Meanwhile, cut up 3 boneless and skinless chicken thighs into 1/2 inch cubes (this is easiest to do if the chicken is 1/2 thawed and so is still a little stiff from being frozen).
When the water is boiling add 1 tbsp butter and 1 1/3 cups of Zatarains's Lower Sodium Creole Rice Pilaf Mix. Return to a boil, stir and shake the pan to level the rice to the water, then reduce heat to a simmer, cover and cook for 20 minutes.
While the rice cooks, cook the chicken in a non-stick skillet lightly oiled with olive oil. Turn often and cook through until the chicken is done. Set aside until the Zatarain's Creole Pilaf Mix is cooked and no water is remaining.
Add the chicken to the Creole Rice Pilaf Mix, stir in well, then recover and set aside for 5 minutes. Then serve. Makes 4 servings.
Author: Matthew Schroebel