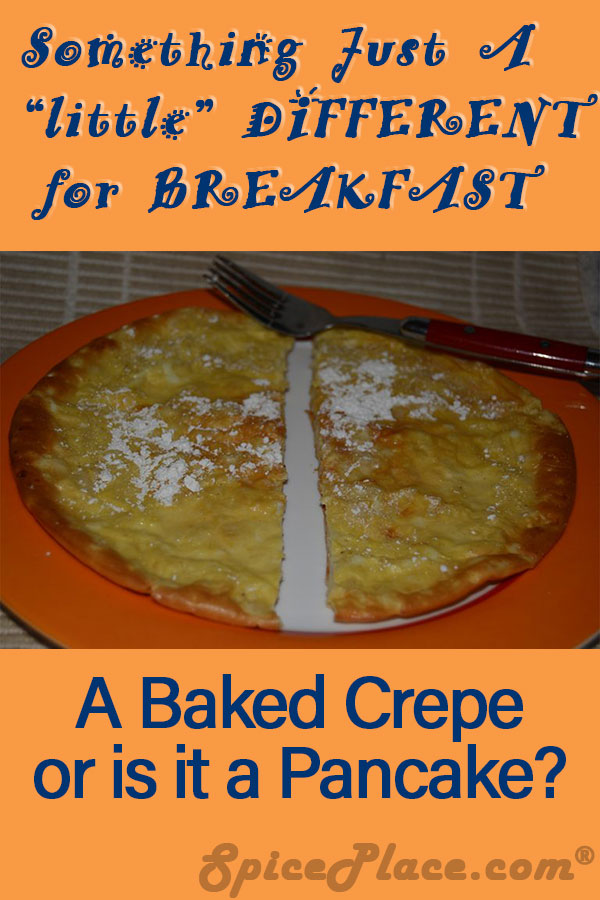 Often breakfast is the same old boring meal. Cereal, fried eggs, or toast; again and again. So here is something completely different. It's a weekend meal, we think, as it takes about 20 minutes to prepare. Honestly, it's not that much work. Mostly waiting for the baking to complete during which time you can be doing other things.
We're calling it a Crepe. Maybe it's a pancake.
1/3 cup flour
1/2 cup milk
2 eggs
1/8 tsp ground nutmeg
1 tbsp butter
Confectioners sugar
Lemon juice
Preheat oven to a moderately hot 425° F.
Meanwhile place the flour, milk, eggs, and nutmeg in a bowl and mix well but not too well. Like for pancakes, leave some lumps. They'll go away.
Use the butter to oil a non-stick oven proof 9″ frying pan or other round pan.
Pour batter into the pan, this is like a pancake so should be a 1/4″ or 3/8″ thick (9mm give or take) place in oven and bake for about 15 minutes. Check at about 12 minutes to see how it's cooking. Cook until the pancake is set, lightly browned – see picture above.
Remove from oven. Dust with sugar and dash with lemon juice; serve.
Makes 2 portions.