De Vita Gourmet Extra Dark Chocolate Squares 48ct 7.4oz (210g)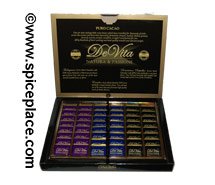 If you like dark chocolate you will love these extra dark chocolates that are a product of Italy.

Pure Cacao: These De Vita Chocolate Squares are made using little cocoa beans which have traveled for thousands of miles across the oceans and have been harvested, fermented, cleaned, roasted, shelled, ground, pressed, mixed, conched, moulded, wrapped and packed for you. All by hundreds of hard working and total quality minded and educated people.

This package of delicious chocolates contains 3 types of single origin chocolate:
Madagascar Single Origin Chocolate: Extra Dark Chocolate with 70% Cocoa Solids for a bittersweet yet almost spicey flavor. You will taste one of the most smooth and full Cocoa flavors of Africa.
Equador Single Origin Chocolate: Extra Dark Chocolate 75% Cocoa Solids for a round and pure flavor. You will taste one of the most deep and persistent high quality Cocoa of South America.
Dominican Republic Single Origin Chocolate: Extra Dark Chocolate with 80% Cocoa Solids for a very pure flavor. You will taste one of the most complex and strong high quality Cocoa of the Caribbean.

A selection of rigorously single country origin dark chocolate squares. 48 Single Origin Thin Individually wrapped Chocolate Squares.

Pure single origin dark chocolates from Madagascar (Cocoa Solids 70%), Ecuador (Cocoa Solids 75%), and Dominican Republic (Cocoa Solids 80%)

GMO Free All Natural, Gourmet Chocolates 100% Cocoa Butter

Each Dark Square has an inner essence to be captured during any time of the day or the night. Take a moment away, far from meals, smoke and any other beverage or food. You will then be able to appreciate what De Vita has prepared for you.
These are the simple rules for a correct dark chocolate tasting:

Warm up the chocolate in your hand without unwrapping it; cold chocolate cannot express itself.
Unwrap the chocolate and observe it carefully; it must have no spots or imperfections and its color must be all alike. With it's shininess it is a pleasure for the eyes as well.
Hold the dark chocolate square between your fingers and smell it; the dark chocolate squares intense fragrance is the second gift your senses will enjoy.
The ritual wants that you keep the square at the center of the tongue, intact, while encountering the palate until the dark chocolate square melts, slowly.
The chocolate becomes supple, while the wide variety of flavors expands itself. In silence the sensations will redouble theirselves: you will savor the strength first, then the variations, finally the persistent aftertaste.
Now that it's almost all gone, you will be able to tell what a real pleasure it all was.
At this point you can start all over again. Enjoy the dark chocolate squares!

De Vita only buys and processes the very best of the cocoa beans grown in the world, mostly directly from the plantations and their farmers. De Vita controls 100% of the process or better, the art of chocolate making. De Vita offers you the best tasting single country origin dark chocolates they are able to make. De Vita works slowly and carefully to ensure you will have the best experience from every single chocolate.

Allergy Information: Made on equipment shared with wheat, milk and tree nuts.