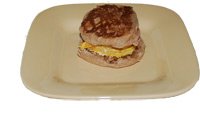 Since it was Christmas Day today, and everyone wanted to open their gifts as soon as possible we thought a quick and easy breakfast was in order. So today's breakfast fare was Home Made Egg Muffins and Old Bay Hash Brown Potatoes. Both of these recipes are quick and easy to make. Start the Old Bay Hash Browns first as they take a little longer to cook. If you don't have Old Bay Seasoning on hand, you can substitute Lawry's Seasoned Salt for the Old Bay and have just as interesting meal.
The real Egg McMuffins are made with English Muffins, Rounded Ham or Canadian Bacon, and Cheese. As is often the case with cooking meals at home, we didn't have either the rounded ham or Canadian bacon on hand, so we had to improvise since it was Christmas Day and the stores were closed. We did have some wonderful sliced Black Forest ham available, so using an old donut cutter with the center removed, we cut the ham into round slices.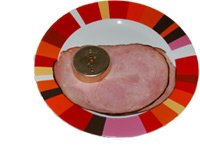 Once we made up enough slices of the round ham, we were in business to start making the muffins. The next order of business was to toast the muffins we needed. We had bought two different types of English muffins to suit the tastes of our guest so we toasted equal number of both the whole wheat and plain English muffins. Now, this isn't a meal that's easy to make as for everyone to sit down at the table and eat because you'd need a commercial griddle to be able to cook all of the eggs needed for the muffins. It's more of a short order cook type breakfast, so once we had the Old Bay Hash Browns within a few minutes of being done it was time to take orders, and begin making the Egg Muffins.
One of our favorite additions to scrambled eggs is a little bit of Tabasco Sauce. But, that's a taste that not everyone enjoys. Since we we're cooking short order today, we were able to offer the extra treat of Tabasco to the eggs for those that enjoyed interesting changes to their meals.
To assemble the Egg Muffins, we first scrambled an egg in a small bowl, adding Tabasco for those that wanted it, and mixing well. We then cooked the eggs over low-medium heat, turned and cooked until done. Then we placed the cooked egg on the toasted English muffin, folding the egg as needed to fit the muffin. We topped the egg with some shredded Cheddar cheese, quickly heated the ham slices in the pan. Since the ham is already cooked we only need to heat it until it's warm to taste, then place the slice on the muffin and serve with the Old Bay Hash Browns.