Diced potatoes are used in soups, stews, hash browns, and more, and yet you're just supposed to know how to cut them up. Sure, there are lots of ways to slice and dice a potato, but some are just plain easier then others. We're going to describe how we dice a potato. The pictures are of fairly large dices that we prepared for making beef stew.
Start by first peeling, and washing the potatoes. Since potatoes will turn brown if left exposed to the air, if you are going to dice a lot of potatoes, have two pans of water on hand. In one pan place the peeled potatoes, and in the other pan placed the diced potatoes after you cut them. Keeping the potatoes in those pans of water will keep them from turning brown. Make sure the potatoes are covered with water.
Once you have the potatoes peeled and washed, carefully cut them in half lengthwise and then place them cut side down on the cutting board.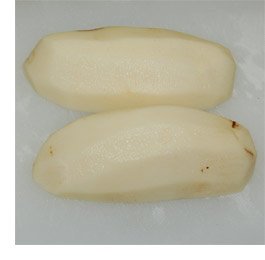 Next cut the potato half in half again. If you have very large potatoes, you may want to cut the potato in thirds instead. We want about 3/4 – 1″ dices since we're making diced potatoes for stew. If you're making a meal that needs smaller diced, turn the slices of potatoes so they lay flat on the cutting board, and slice them lengthwise again.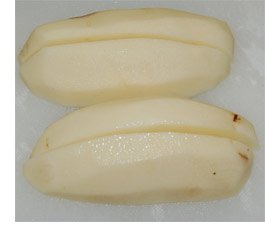 The final step is to form the dices by cutting the potatoes crosswise. Make these cuts by first starting at one end, then make the next cut 3/4 to 1″ over, and continues to cut the dices until you reach the other end.