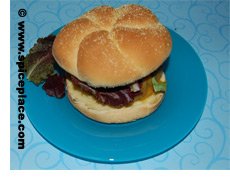 If we were to survey a hundred people and ask them to name a gourmet food, the chances that a hamburger would end up on that list are between zero and nil. So what's the deal with the name of this article? Durkee Seasonings has a new seasoning blend named Gourmet Burger Seasoning and it's quickly become our favorite way to season our grilled hamburgers. And even though salt is the first ingredient in the ingredients list, there really isn't too much salt in the mix. I'd know because I haven't used salt in cooking in years.
There's two ways to use Durkee Burger Seasoning, mix the seasoning in with the hamburger meat, and then form the burgers, or to simply sprinkle on the hamburgers before cooking (or right before serving, which makes 3 ways, I think). My preference is to mix the seasoning into the meat before cooking. If you're using pre-made frozen burgers your choice is limited to sprinkling the burger seasoning on the hamburgers. Either way results in a delicious tasting burger, and I feel the blended in method results in a more deeply seasoned hamburger.

When mixing the seasoning into the hamburger use about 2 tsp of seasoning per pound of lean ground beef. Add 1/4 tsp of Tabasco Sauce if desired. For food safety reasons, always cook hamburgers to 170° F (medium well). We like to serve our grilled hamburgers on toasted Kaiser rolls, along with Cheddar cheese, sliced pickles, and condiments like ketchup, mustard and mayonnaise. Side dishes that go well with this meal are macaroni salad, cole slaw, potato salad, or a tomato-cucumber salad. If you're having a weekend barbecue party, you might want to make all of the salads so your gets can choose their favorite.