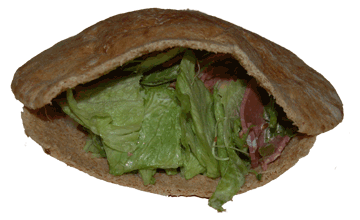 A well made stuffed pita sandwich has a delightful blend of flavors and textures. We stumbled on this mix of tastes by accident – simply it's what we had around to eat! The flavors of the pastrami, Thai Basil and green onions mix to create a wonderful taste experience.
Here's what's inside the pita pictured above:
1 large slice beef pastrami cut into 1 1/2″ squares
1/4 cup lettuce, ripped into 1 1/2″ pieces
1/4 cup alfalfa sprouts*, rinsed and drained
2 tbsp chopped spring onions
1 tbsp fresh Thai basil leaves, ripped into 3/8″ pieces.
*Alfalfa sprouts aren't required but add an intriguing crunch to the sandwich.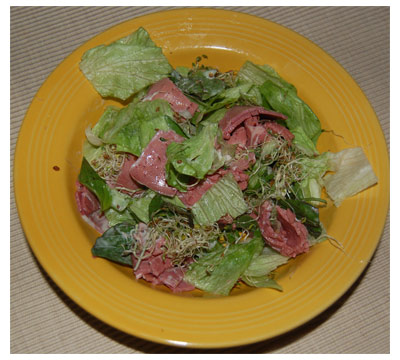 The secret to making great pita sandwiches is to mix everything together first in a bowl and then stuff the mixture into the pita. If you try to make the pita by simply stuffing things into the pita pocket, you won't be able to blend everything evenly.
To make this pita pocket sandwich, cut the top 3/8″ off of a whole wheat pita across the widest part. Mix the ingredients listed above in a salad bowl, and then stuff into the pita pocket.