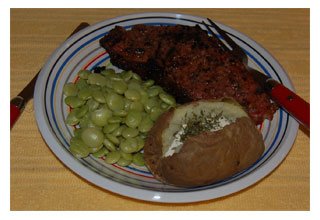 Barbecued New York Strip Steak
For years, we've been on the search for finding that tender cut of meat that we get at the restaurant and from specialty steak suppliers. We've bought steaks from gourmet shops, organic farmers, organic grocers, high end grocers, and so on. Yet, we never seemed to get a tender steak. We tried USDA Choice and USDA Prime cuts, which made no difference either. We almost gave up on the idea believing that that restaurants had a specialty supply of select meats. Then one day recently, the light came on and we discovered the secret.
We'll tell you in just a second what the secret is and when we do, you're going to say, duh! And it's a big duh, something we all should know and in fact do know about. The secret is, (ready?) Adolph's Meat Tenderizer. See, it's something you know about, probably have in your kitchen cabinet and most likely don't use very often. But you should use Adolph's often and on every steak you barbecue this summer. Oh, one more question. Ever wonder how that barbecue joint makes tender baby back ribs and beef brisket? The answer to that question is that they use Adolph's Tenderizer. That's it.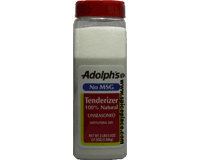 So break out that bottle of Adolph's Meat Tenderizer this weekend, sprinkle a little on both sides of the steaks. Use about 1 tsp of Adolph's per pound of meat. If you have one, prick them with a corn on the cob holder, otherwise use a fork. Then season as you desire, and they're ready to grill immediately. You may cover and refrigerate for 2 – 3 hours for more tenderizing but that's usually not necessary.
Adolph's is made from the Papaya, is all natural and contains no MSG. It's a little bit of magic in a bottle. What are you waiting for? Light that grill and be surprised with how you can now make those tender steaks like you get when you eat out at that expensive restaurant and without paying $20.00 a pound for them. Try it! You are certain to be amazed.