We're going to switch tracks here from our different foods we cook with Old Bay Seasoning to the more usual. Last night we made the classic meal Old Bay Steamed Shrimp.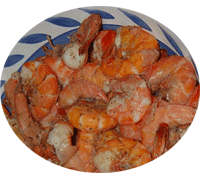 This Old Bay Steamed Shrimp Recipe is a classic and always tastes great. The vinegar taste combines well with the shrimp and Old Bay to tease the palette. It makes a great weeknight meal since it's so easy to make. We serve these with hush puppies, corn on the cob and cocktail sauce.
Recipe for Old Bay Steamed Shrimp
1 tbsp Old Bay Seasoning
1 tsp sea salt
1/2 cup water
1/2 cup white vinegar
1 lb shrimp
Combine the Old Bay Seasoning, Salt, Water, and White Vinegar in a large saucepan
Place pan over medium heat and bring to a boil.
Add shrimp, mix well, cover, and simmer until tender.
Serve with corn on the cob, and hush puppies