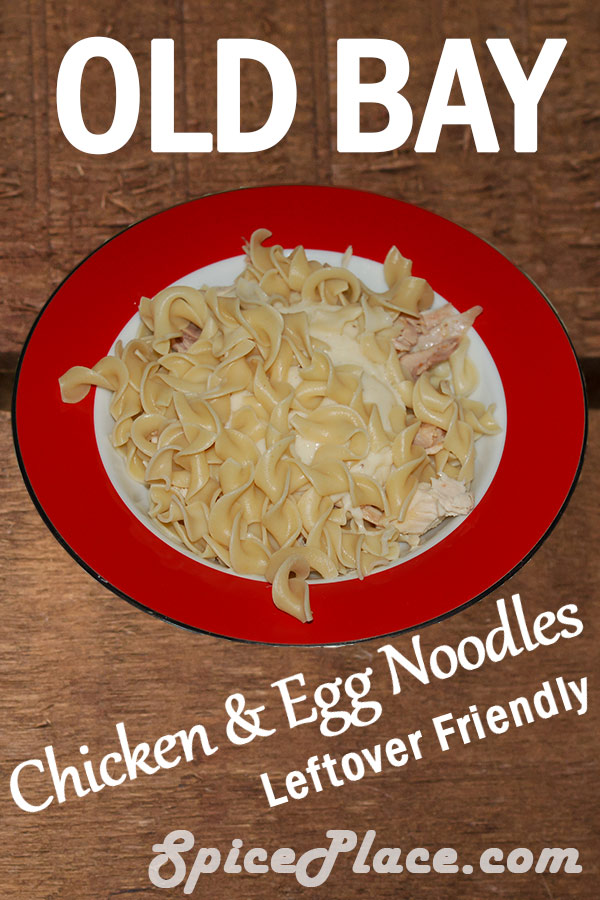 Often times during the holiday season we have leftover roast chicken or turkey around and don't know what to do with it. We've created an excellent recipe for using those leftovers, and flavored with Old Bay Seasoning. We've named it Old Bay Chicken and Noodles, and it's scrumptious. The recipe is basically egg noodles, Old Bay Seasoning, chopped left over chicken or turkey, a white sauce and Gruyere cheese.
Old Bay White Sauce with Gruyere Cheese
2 tbsp butter
2 tbsp white flour
1 cup milk
1 tsp Old Bay Seasoning
1 cup Gruyere Cheese, shredded
Melt the butter in a 2 quart non-stick sauce pan. Then add the flour, and cook over medium-low heat about 2 – 3 minutes stirring constantly.
Add milk, and continue stirring until sauce begins to thicken.
Add Old Bay Seasoning and stir well.
Add Gruyere cheese, and stir until melted. Remove from heat.
Recipe for Old Bay Chicken and Noodles Old Bay
1 1/2 to 2 cups leftover cooked chicken or turkey, chopped into 3/4″ chunks.
8 ounces dried egg noodles
Old Bay White Sauce with Gruyere cheese (above)
Heat 2 quarts of water in a 3 quart pot
Prepare the White Sauce with Old Bay and Gruyere cheese.
While the white sauce is cooking, cook the egg noodles according to the directions on the package.
Heat chicken in microwave, or add to white sauce and continue to heat until all is warmed.
When egg noodles are done, drain into a collander.
To serve, place some egg noodles in a bowl, add chunks of chicken, then top with the white sauce, and stir to distribute sauce well.