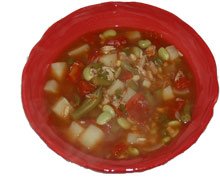 Here in our new blog, we're focusing on cooking home cooked meals with herbs and spices, that are easy to make on a weeknight, are generally low in fat, use the seasonings we sell, and above all taste good. So, tonight we made a different dinner using leftover crabmeat, Old Bay Crab Soup. If we asked 5 of our friends to tell us how they eat blue crabs, we may not hear one that mentions crab soup. Most would likely mention steamed crabs, or crab cakes, but crab soup is a treat in itself and is worthy of honorable mention 2nd place when compared to the most common replies we'd expect. You might ask, better than crab cakes? To which we'd reply, "it depends". Certainly in terms of having a healthy meal the crab soup wins hands down.
Now here in Maryland, Crab Soup is served at many a restaurant. Lot's of times it's served in crab houses as an appetizer and it's so common that many a grocery store have it regularly in their soup pots at the salad bar. In the all-you-can-eat crab houses, it's often used as a filler food to reduce the number of crabs you eat. But as far as filler foods go, this is one heck of a treat and it's a quality meal unlike filler foods like hush puppies, french fries, and french breads.
When we make Old Bay Crab Soup it's our main dish and not a filler food. Since it's a great meal in itself and we serve the soup with buttered and toasted sourdough bread. The one special ingredient that we feel makes crab soup so special is the use of Old Bay Seasoning. The unique blend of spices in Old Bay, and its natural affinity with seafood make it the perfect seasoning for crab soup. On spiceplace.com we have two different recipes for crab soup that use Old Bay, Maryland Crab Soup and Delmarva Crab Soup. Both of those recipes make one heck of a lot of soup and aren't suited for weeknight dinner meals.
So being that it was weeknight and we didn't have a crowd to serve, we choose not to use either of those recipes, and instead created our own. Here's how we made our Old Bay Crab Soup:
Start by heating 2 cans of low sodium beef broth and 2 cups water in a 3 quart sauce pan . While the beef broth is heating, dice 1/2 of a medium sweet onion, and 2 stalks of celery. Place the onion and celery in a non-stick frying pan, and cook them over low heat about 5 minutes. Then add the onion & celery to the beef broth, along with 1 1/2 tbsp of Old Bay Seasoning. Once the broth comes to a boil, add 1 cup frozen shoepeg corn kernels, and 1 cup bay lima beans. Allow the corn and lima beans to cook for 5 minutes, then add 1/2 pound of crabmeat. The crab meat doesn't have to be the premium lump crab meat, but it should be cook quality such as backfin (and not claw crabmeat). Cook for another 5 minutes and serve with toased sourdough bread.