Wow! The holidays are over and we're back at work. There's less time now, so what to cook for dinner? The leftover turkey is long gone, and we need something that is quick and easy to cook, yet fits our healthy and tasty requirements. So tonight it's Buffalo Chicken Breasts with wild rice, carrots and celery.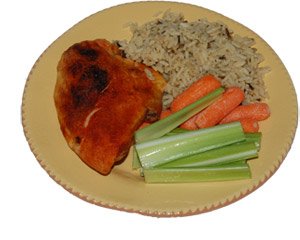 This is a really quick and easy meal to make. It's much healthier for you then Buffalo Wings. You can make it even healthier by removing the skin from the chicken breasts before seasoning them (the skin is what makes the Buffalo Wings so high in fat and it's hard to avoid on the tiny wings). But on the chicken breasts there is choice, so please don't eat the chicken skin — it's absolutely full of fat — that's why it tastes good.
What you need:
To make:
Preheat oven to 350° F.
Wash and pat dry the desired number of chicken breasts. Then sprinkle thoroughly with with the Durkee Buffalo Wing Seasoning. Make sure to sprinkle with breasts on all sides. Don't use too much seasoning, just make sure the surface of the breasts are coated.
Line a baking pan with foil to make cleanup easier.
Place the seasoning chicken breasts in the pan.
Bake for one hour.
Serve with Wild Rice, chopped celery, carrots and Ranch Dressing.