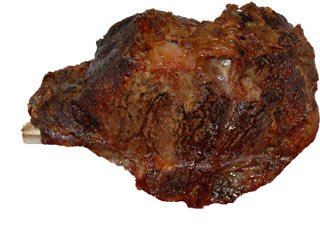 A standing rib roast is one of the easiest roasts to make, and is also one of the most delightfully flavored to eat. Many people today prefer to go out to dinner and eat at restaurants where the standing rib roast is also known as prime rib. But, you can make a standing rib roast at home that tastes just as good as the one you get at the restaurant. The secret is Lawry's Seasoned Salt .
Lawry's Seasoned Salt was originally developed at Lawry's Prime Rib Restaurant in Beverly Hills, CA. It's available worldwide now, and we sell it at Spice Place in a 40 oz jar. It's taste is simply wonderful with a standing rib roast, any beef roast or steak, and even simply sprinkled on french fries or hash brown potatoes.
This past New Years Day we had a standing rib roast for dinner and here's how we made it:
5 – 6 pound standing rib roast
Preheat oven to 300° F.
Remove any visible fat from the top, and sides of the roast.
Season the standing rib roast on all sides with the Lawry'S Seasoned Salt.
Sprinkle lightly with garlic powder.
Place the roast in a roasting pan with the fat side up.
If you have a remote monitoring thermometer, insert the sensor now.
Place a bread pan on the bottom rack of the oven and fill with water.
Place the roast in the oven and cook 3 – 4 hours until the internal temerature measured by a thermometer is at least 165° F (medium).
Remove from oven, and let sit 10 minutes before slicing.
Makes 3 -4 servings. Serve with a green salad, mashed potatoes, and Au Jus Gravy, and your favorite vegetable.