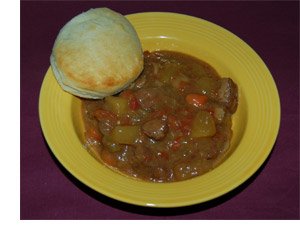 This is a delicious and fairly easy to make recipe for Beef Stew. Since the recipe includes Adolph's Tenderizer, you can use the tastier (and tougher) cuts of meat to make this beef stew, such as chuck or brisket. The Adolph's Tenderizer combined with slow cooking will break down the tough fibers in the chuck or brisket, and make for a tender meal.
Beef Stew Recipe Ingredients
1 – 1/2 lbs beef for stew
1/4 cup flour
1 tsp Adolphs Tenderizer
1 tbsp Lawry's Seasoned Salt
Canola oil
1 tbsp Worcershire Sauce
1 medium onion, diced
3 stalks celery, diced
2 tsps beef base
4 cups water
1 can diced tomatoes or whole crushed tomatoes with juice
2 small cans sliced mushrooms
1 1/2 cups baby carrots, sliced
2 medium potatoes, diced
To make Beef Stew
Put flour, tenderizer and seasoned salt in plastic bag and mix together.
Place beef in bag and toss to evenly coat beef.
Heat canola oil in large dutch oven. Place beef in oil and brown, stirring to cook all sides.
Add celery and onion to the dutch oven. Cook about 5 minutes or until onion is translucent.
Add Worcershire sauce, tomatoes, beef base, and water; mix thoroughly.
Bring to a boil and then add bay leaves, mushrooms, carrots, and potatoes.
Simmer the beef Stew for 2-3 hours.
You adjust consistency and make a little thicker with a little water and cornstarch mixed together and then adding to Beef Stew. Stir, and cook for 10 minutes more, stirring a few more times.
Serve Beef Stew with hot biscuits or corn muffins.