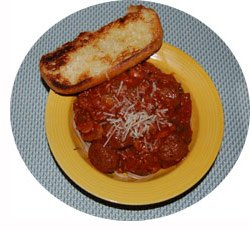 Spaghetti sauce is a good weeknight meal because you can go from idea to table in 30 minutes. You don't need to buy the expensive prepared sauces from the grocery and can make a better sauce at home almost as quick. We've seasoned our sauce in the recipe below using McCormick Spaghetti Sauce Mix, but you can feel free to replace the mix with 1/4 to 1/2 tsp basil leaves, 1/4 to 1/2 tsp oregano leaves, 1/8 tsp black pepper, and about 2 tbsp whole wheat or white flour [as a thickener]. We simply find the mix is a little easier to use as all of the ingredients are in the proper proportions already. Note in the pictured recipe we used whole wheat spaghetti noodles for the pasta.
Spaghetti Sauce Ingredients
1 pound lean ground beef
1/2 cup finely diced onion
1/3 to 1/2 cup finely diced green pepper
1/2 tsp chopped garlic
1/3 cup McCormick Spaghetti Sauce Mix

1 can tomato sauce
1 can water
1 can mushroom stems & pieces
Grated Parmesean Cheese

To make Spaghetti Sauce
Brown the ground beef in a 3 quart non-stick sauce pan. Drain any grease.
Add the diced onion, and pepper to the ground beef and simmer about 4 – 5 minutes until onion is translucent.
Add the tomato sauce and water, mix in McCormick Spaghetti Sauce Mix, and stir well.
Simmer to spaghetti sauce, stirring often at least 10 minutes, until desired thickness is reached.
While the spaghetti sauce is simmering, prepare your favorite pasta noodles according to directions on package.
Add mushrooms last, stir, and serve with spaghetti noodles, grated Parmesean cheese and garlic bread.
Garlic Bread
Any white bread or rolls. We use 2 sub rolls, tops and bottoms.
2 tbsp butter, melted
1 tsp chopped garlic
Grated Parmesean Cheese
Cut butter in small 1/4 – 1/2 slices and place in a pyrex cup.
Microwave the butter about 10 – 15 seconds at a time until butter is melted.
Add chopped garlic and stir well.
Let the butter garlic mix sit about 5 mintues. Stir.
Meanwhile, preheat broiler and place a layer of aluminum foil on a cookie sheet.
Place bread on sheet, and spoon and try to evenly spread top of bread with the butter garlic mix. Be careful not to add too much garlic to any single slice of bread. If making a large amount of garlic bread you can double the garlic butter quanities as required.
Spinkle top with grated Parmesean cheese and broil about 1 minute. Watch carefully as this will burn quick.