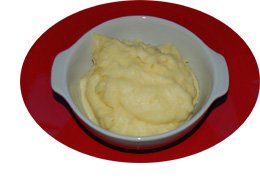 This recipe for Garlic Tabasco Mashed Potatoes is a treat. That is, of course, if you like garlic like we do. This recipe isn't too garlically in taste, and the Tabasco Sauce adds its own twist to the flavor of the mashed potatoes.
Garlic Tabasco Mashed Potatoes
4 to 5 medium new or red potatoes
1 tsp Nina chopped garlic
2 tbsp finely chopped fresh onion
1/2 to 1 tsp Tabasco Sauce
1/2 cup milk
2 to 3 tbsp softened butter
Place milk and butter in a warm location to soften butter, and warm milk.
Peel and cut the potatoes into large chunks.
Place the potatoes into a 3 quart non stick saucepan and cover with water.
Add the finely chopped onion, and chopped garlic to the saucepan.
Cover the saucepan, heat to a boil, and cook for 20 minutes.
Drain potatoes, and place into a mixing bowl.
Add the Tabasco Sauce, 2 tbsp softened butter, and 1/4 cup milk. Beat the mashed potatoes with a hand mixer until smooth and creamy adding additional milk and butter as needed to make creamy.