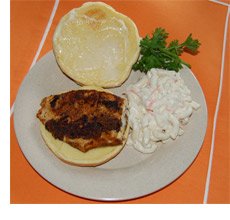 We like to keep frozen farm raised catfish around in our freezer. They're an easy main dish to make, and can be used in a wide range of recipes such as breaded deep fried, grilled, baked and pan fried. Plus eating fish is part of a healthy diet. So, as a quick weekend lunch we often make Cajun Catfish Sandwiches served with Macaroni Salad. If you have a microwave, and the prepared macaroni salad, this meal goes from freezer to plate in about 15 minutes.
Recipe for Cajun Seasoned Catfish Sandwich
One frozen catfish fillet per sandwich [adjust according to size of fillets]
Kaiser rolls
Mayonaise or tarter sauce
Sliced tomato
Lettuce leaves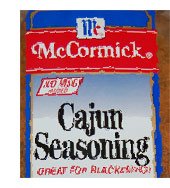 To make Cajun Seasoned Catfish Sandwiches
Thaw catfish fillets in microwave. 2 fillets thaw in about 5 minutes on defrost. Adjust time to the power and number of fillets you're thawing.
Add about 2 tbsp per fillet of McCormick Cajun Seasoning to a reclosable zipper bag. Add the catfish fillets, and shake to distribute the seasoning evenly over the catfish fillets.
Cook the fillets in a non-stick skillet that has been lightly oiled with olive or canola oil for about 5 minutes per side.
While the fillets are cooking toast the number of kaiser rolls required.
Place the cooked catfish fillet on a Kaiser roll, top with mayonaise or tarter sauce, and lettuce and tomato (if desired).

Serve Cajun Seasoned Catfish with Macoroni Salad.