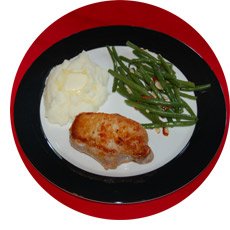 Boneless center cut pork chops are an excellent choice for a simple, and easy to make dinner. Because many pork producers raise pork in overcrowded conditions, we try to buy humanely raised pork products when possible. Locating stores that sell organic and humanely raised pork is a bit difficult. We've had some success with Super Fresh, and Weis; you can usually find organic pork at a Whole Foods market, but if you have a local butcher, you could ask if the pork is raised local. Many local farmers will raise and sell pork that are raised in a comfortable setting.
Porks chops can be cooked in a variety of ways including pan fried, broiled, baked and grilled. We have a couple of excellent baked pork chop recipes which we'll share in future posts. Todays recipe is for Buffalo Seasoned Pork Chops that are pan fried. These will go from refrigerator to table in about 15 minutes, so this is a great weeknight meal idea.
We chose to serve our pork chops with a vegetable of green beans and almonds, and buttered mashed potatoes.
Buffalo Seasoned Pork Chops Recipe
Lean centercut boneless pork chops
Season the pork chops liberally with Durkee Buffalo Wing Seasoning
Pan fry in a non-stick skillet about 8 – 10 minutes per side until the pork chops are cooked thru.
Meanwhile, cut and prepare the green beans by steaming for 8 minutes, and then mixing in about 1-2 tbsp of Almond Slivers. Also, prepare mashed potatoes by following the package directions.