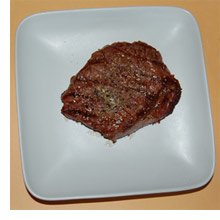 Summer weekends seem destined for barbecuing outdoors. By cooking outdoors, we don't add any additional heat to our homes, and the barbecued foods we make take on additional flavor from the grill cooking. Plus it's a great opportunity to use our deck, and enjoy the company of our family and friends.
The most frequently outdoor grilled foods are steaks, hamburgers, hot dogs and chicken pieces. We often venture beyond the usual and regular readers of our blog know we're not afraid to cook beef roasts, pork roasts, whole chicken, and ribs. But, today we're making a recipe that's straight forward, Canadian Seasoned Rib-eye steaks. If you're a new barbecuer, this is a great starting recipe and is about the easiest barbecue recipe around. At one time we'd eat one of these ourselves, but nowadays, we split the steak with another person.
We don't have a gas grill and always cook on our Weber kettle grill. We prefer the charcoal cooking over gas grills and also love the more basic cooking method of charcoal. It's hard to explain, but I think there's a feeling of pride in being able to cook well outdoors with basic unregulated cooking appliances like the Weber. There is a raw naturalness to it, that doesn't exist in our everyday modern lives.
So light the barbecue, you're welcome to use your gas grill. When the grill is ready, sprinkle the Ribeye Steaks with Canadian Steak Seasoning, and grill them close to but not right over the coals for about 5-8 minutes for the first side, and 4 minutes on the other side. Cut the steak to check for doneness, and continue cooking if needed. Sprinkle a little more Canadian Steak Seasoning just before serving. There's no need for barbecue sauces with this recipe. Simply cook, season, and serve.