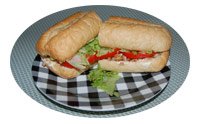 If you're like us, you often make too much of a good thing. That is, your eyes are bigger then your stomach, and you cook more food then you can eat. We don't like wasting food, so when we made the Buffalo Chicken Thighs Recipe the other day, we had a few thighs left over. Since we used boneless skinless chicken thighs, they could easily be chopped up to make a chopped chicken sandwich.
This is a really easy recipe to make using leftovers. Since the chicken was already cooked, all we needed to do to prepare this recipe was to chop up the seasoned chicken thighs into small pieces. We find cutting up chicken is easier when it's cold, and so we chopped up the chicken right out of the refrigerator, then put it in a bowl to be reheated in the microwave. Since the Buffalo Chicken Thighs are very flavorful, this recipe doesn't require any sauce.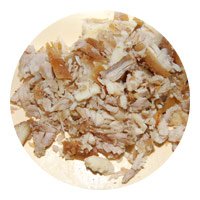 Serve the chopped Buffalo Chicken Thighs on submarine rolls that have been toasted lightly in the broiler, and then spread with mayonnaise. Top with the chopped chicken, and lettuce and tomato.
This is a tasty sandwich, which could actually be prepared directly from the Buffalo Chicken Thighs as the main dish instead of as a way to use up the leftovers.