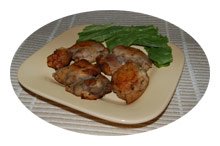 We have this wonderful recipe for Buffalo Chicken Wings that came from a Buffalo Wing Joint in Buffalo, NY, and last week we thought we would try out the recipe using chicken thighs instead.
We choose chicken thighs because we feel they have more flavor that chicken breasts and thought that would make a nice meal. We also used boneless-skinless chicken thighs to reduce the amount of fat in this meal. Reducing the fat was part of our thinking to using chicken thighs instead of chicken wings for this meal.
We didn't change the recipe for the marinade for the original Buffalo Wing Recipe and placed the chicken thighs into a large ziploc bag, and poured in the marinade. The marinade will easily season 5 pounds of chicken thighs in this manner. Place the bag of chicken thighs in the refrigerator, and let the chicken marinade in the Buffalo Wing Marinade for at least three hours, turning every 30 minutes to let the marinade season the chicken thighs evenly.
To cook the chicken thighs, remove the thighs from the ziploc bag, and place in a large baking pan that has had the bottom covered with non-stick aluminum foil (this is important, use non-stick foil). Bake in a 500° F oven for 30 – 45 minutes, depending on the size of the chicken thighs. When the thighs are done, remove from oven, and serve with carrot sticks, celery sticks, and blue cheese salad dressing.