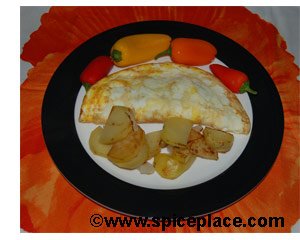 Our favorite all around hot sauce is Tabasco Sauce. It's great in lots of recipes, Tabasco is a key ingredient in the Buffalo Wing recipe in our last post. Besides it's use in the Buffalo Wings recipe, it's a necessity in Gumbo, Chili, and Nacho Cheese recipes. But we try to experiment with Tabasco, and find interesting uses for this pepper sauce.
You can always mix 4 or 5 drops of Tabasco into scrambled eggs. Break 2 eggs into a small bowl, add 4 or 5 drops of Tabasco Sauce, and beat well. Pour into a lightly greased non-stick pan, such as T-Fal, or Circulon, and cook just until the eggs begin to set. Then using a spatula, stir the eggs so that they cook evenly. When cooked through, season with a little salt and black pepper and serve.
Making a Tabasco Seasoned Ham and Cheese Omelet
Today, we made a Ham and Cheese Omelet that is pictured above along with hash brown potatoes. We have a post with complete instructions on how to make an omelet in a prior post, so we won't go into those details. For our Tabasco Seasoned Omelet, add 1/4 tsp of Tabasco Sauce* to 3 eggs in a small bowl, and beat well. Add the egg mixture to a heated lightly oiled non-stick pan over medium heat, cover, and cook until set, then top 1/2 side of the omelet with chopped ham, and shredded Cheddar cheese. Cover, to let cheese melt, then flip the plain half on top of the ham and cheese hal.. Cut the omelet in half before serving. Makes 2 servings.
* You may want to start with 5 drops of Tabasco and adjust to taste to not make this recipe too hot for you and your family.