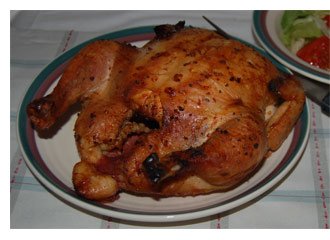 McCormick's Big and Bold Monterey Style Seasoning has become a favorite seasoning of ours. It's a mix of coarsely ground garlic, red bell pepper, roasted garlic, red pepper, and contains tumeric and annatto for adding a yellow color to foods. We find that the yellow color adds a pleasing and appealing look to chicken. So today we're going to share our recipe for making a barbecued whole chicken seasoned with McCormick's Monterey Style Seasoning along with a little bit of chili powder.
Monterey Seasoned Chicken Recipe
a 4 pound whole chicken
2 tbsp McCormick Monterey Style Seasoning
1 tsp chili powder
1 tbsp sugar
2 tbsp vinegar
1/2 cup water
Wash the chicken under cold water and set on a plate to allow excess water to drain off.
Place the Monterey Style Seasoning and Chili Powder in a cup. Add sugar, water and vinegar. Stir to mix well.
Put the whole chicken in a one gallon size freezer zip-loc storage bag.
Dump the seasonings over top of the chicken, seal the bag, and flip over a few times to distribute the seasonings. Place the chicken in the refrigerator and marinate for about 2 hours turning over every 1/2 hour so the seasonings evenly infuse the chicken.
Since this is a whole chicken, it needs to be cooked indirectly so it cooks slowly and completely. So place the charcoal on only one side of the grill. Light grill.
Remove the chicken from the zip-loc bag, and place into a disposable heavy-duty aluminum pan that has the bottom lined with non-stick aluminum foil. We use the disposable pans because the smoke from cooking will permanently mark a real roasting pan.
When the grill is ready, place the chicken on the side away from the heat, cover and cook for 1 to 1 1/2 hours or until the internal temperature of the chicken is about 170° F. For proper food safety, it's very important that a meat thermometer is used to make sure the chicken it cooked thoroughly to prevent illness from under cooked chicken.
Let the cooked chicken sit for 10 minutes before carving or else you'll find you have shredded chicken (instead of sliced chicken).