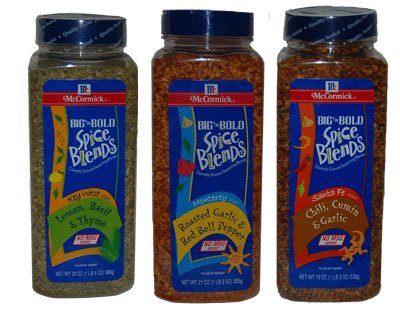 Big and Bold Seasonings from McCormick
New at our Spice Place online store are McCormick's Big and Bold Seasoning Blends. This is a line for very unique blends of seasonings from McCormick that we've simply fallen in love with. The flavor experts at McCormick have crafted some very delicious and savory blends into these seasonings. Each of these seasonings has a unique blend of herbs, and spices and they contain very little salt. We offer each of these spice blends in professional chef size containers ranging from 19 to 21 ounces.
Ranging in taste from Key West's citrus flavor through Santa Fe's cumin chili taste to Monterey's red bell pepper seasoning, the McCormick Big and Bold Seasonings are a treat for the taste buds. These seasonings can be simply sprinkled on your foods, or mixed with liquids such as vinegar, lemon juice or water to make a delicious marinade. The flavors are unique, and will add a whole new set of tastes to your meals.
Key West Style – A blend of lemon peel, basil, thyme and other herbs and spices for use on shrimp, seafood, chicken, beef, and pork.
Monterey Style – Bold Red Pepper and Roasted Garlic flavor goes well with chicken, fish, seafood, pork and beef.
Santa Fe Style – A rich taste of the southwest seasoned with chili, cumin and just the right amount of garlic. Use with beef, pork, chicken and seafood. Blend 1 tbsp with a pound of lean ground beef for a Santa Fe style hamburger.
As the summer barbecue season approaches, curious chefs should consider this line of seasonings for there backyard cooking. Each seasoning has it's unique taste that will make your outdoor cooking taste great and you're certain to receive rave reviews of your recipes from your guests.