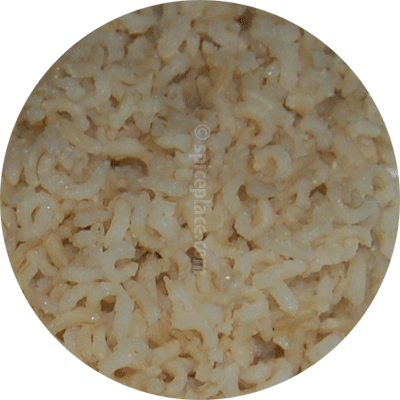 If you've ever made brown rice before, then you know that you often end up with rice that looks like popcorn – that is, the rice expands and pops out of it's shell leaving a sorta exploaded look to the rice.
But it doesn't have to be that way. By baking brown rice in a pan in the oven you can make a brown rice with a texture similar to white rice.
Here's how:
Bring to a boil 4 cups of water. You can do this on the stove or in a large Pyrex cup in the microwave (start at about 4 minutes in the microwave – depends on your oven, of course).
Heat the oven to 375° F.
Place 2 cups of rice in a baking pan. I use an aluminum throwaway pan lined with non-stick aluminum foil. Place the rice on the foil, and pour the boiling water over the top. Even out the rice.
Cover with aluminum foil and bake for about 45 minutes. Then check to see if the rice is done — it will most likely take an hour. You'll know when it's done when all of the water is absorbed by the rice. Don't bake too long or you'll find the rice explodes and looks just like you boiled it in a pan.