Compact Fluorescent 13 Watt, pkg of 8
General Electric Soft White 60 compact fluorescent lamp, for regular everyday light.
Super energy efficient compact fluorescent lamp uses 13 watts to produce the same light as a regular 60 watt bulb. That's the same light using less than 1/4 of the electricity of regular light bulbs.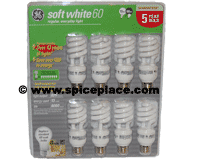 Purchasing and changing your incandescent bulbs to compact fluorescent bulbs is both economically and environmentally beneficial. This package of 8 compact fluorescent bulbs can save you over $300.00 in energy costs and reduce air pollution because of the reduced energy demand.
Compact fluorescent bulbs last 8 - 10 times longer than regular light bulbs so they need changing less often. You may expect these compact fluorescent bulbs to last about 5 years with normal use (4 hours per day). This package of bulbs can produce 43 years of light (with use of 4 hours per day 7 days a week each bulb will last a little more than 5 years multiplied by 8 bulbs in package equals about 43 years normal use.).
These small spiral compact fluorescent bulbs produce a soft, pleasing light and have electronic ballasts for instant on flicker free starting. Compact fluorescent bulbs are for use in a warm, dry location. They will reliably start to 5° F (-15° C).
The specifications for these 13 watt compact fluorescent bulbs are:
Voltage:

120 Volts 60 hz

Light output:

825 lumens

Energy used:

: 13 watts

Average life:

8,000 hours

These compact fluorescent lamps are Energy Star rated. Besides saving electricity, these bulbs may help reduce the related emission of green house gases relating to the electricity generating facility supplying your energy need. Each compact fluorescent bulb can save more than 400 pounds of carbon dioxide over it's lifetime, so this package of 8 compact fluorescent lamps could reduce your greenhouse gas footprint by 3,200 pounds. The reduction of greenhouse gases relates to fossil fuel source used by electric power plants.

An easy solution for reducing energy use and greenhouse gas emissions
Compact Fluorescent Lamps are among the simplest and cheapest solutions available to the average person to reduce greenhouse gas emissions. While most alternative energy solutions start at costs in the 10's of thousands of dollars and take decades for return on investment, CFL lamps costs 10's of dollars, and payback for frequently used lights is often about 2 years. They're aren't many other quick and easy solutions you'll find that can cut energy use by 75%, have such rapid payback, and work as effectively as the product being replaced.
From the US Government Energy Star CFL Website:
If every household in the U.S. replaced one light bulb with an ENERGY STAR qualified compact fluorescent light bulb (CFL), it would prevent enough pollution to equal removing one million cars from the road. CFLs provide high-quality light, smart technology, and design, requiring less energy while lasting longer than typical incandescent bulbs.
These compact fluorescent bulbs fit most lamps. Do not use compact fluorescent bulbs in an application where the lamp shade is supported by the light bulb. The thin glass of the spiral bulb is not strong enough to support a lamp shade. CFL's are the best solution toward extending the useful life of the earth's fossil fuel reserves, and toward the future of reduced use of energy by replacing high energy using items with more energy efficient products.
Tiered Product Pricing
Quantity
Description
Price
Each
Unit Price
$20.24USD
6
6 or More
$18.15USD
General Electric Item Code:
31064