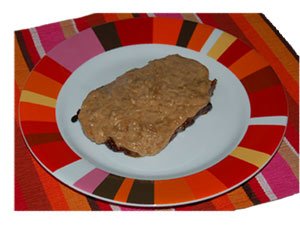 If we ran a restaurant, there is one recipe that we'd offer on the menu and we know it would be a hit. Now, this isn't a steak and cheese sandwich. It's a Rib Eye steak, broiled to medium well (or your desired doneness) and then topped with a sauce made with savory . It's absolutely the best tasting steak we've ever had.
To make this recipe, first prepare the cheese sauce (recipe below). Then broil a Rib Eye steak seasoned only with salt and pepper until the desired doneness is reached. Remove the steak from the broiler, top with the cheese sauce, and serve. Yum!
Cheese Sauce
1 large sweet onion, sliced thinly
2 tbsps butter
2 tsps sugar
1 1/2 tsps flour
1/2 cup beef bouillon
1/4 cup milk
1 cup Gruyere cheese, grated
1/4 cup Parmesan cheese, grated
Slice onion in half and the slice thinly
Melt butter in large skillet
Add sugar to melted butter
Add onion to melted butter and sugar
Cook onion until limp and lightly browned
Add flour and cook for 1-2 minutes
Add beef broth and milk
Bring to a boil and cook over medium heat until thickened
Add grated cheeses
Cook until cheeses are melted
Serve over cooked steaks
Any left over cheese sauce can be frozen and thawed when needed.