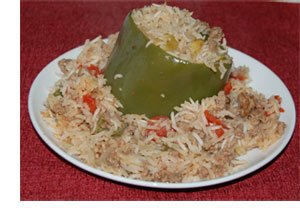 Here's a recipe for a 'light' stuffed green pepper. It's light because it's made using lean ground turkey instead of ground beef, so it's lighter in fat.
First, cut the tops off of 4 green peppers. Then carefully cut out the center membrane of the pepper, and remove and discard the seeds. Set aside. Preheat oven to 350° F. Fill a 3 quart saucepan with water, and begin heating to a boil.
Meanwhile, dice up about 1/3 cup of onion. Dice the tops of the green pepper. Chop up 2 cloves garlic. Place the onion, diced green pepper and garlic in a large non-stick skillet along with about 1 tbsp olive oil. Cook the onion, garlic and green pepper for several minutes, stirring and turning often.
Add 1 pound lean ground turkey, 1/2 tsp poultry seasoning and cook, turning often until cooked through. Then add 1 1/2 cups Basmati rice, one can low sodium chicken broth, and 1 can diced tomatoes. Heat, and stir about 8-10 minutes. Meanwhile, blanche the green peppers in the boiling water about 4-5 minutes, turning to make sure all sides are cooked. Remove peppers from water, and set on a plate.
Place about 1/2 cup of the turkey rice mix in an oven safe caserole. Then place the green peppers in the casserole. Fill the peppers with the turkey rice mix, and fill sides with any remaining rice mix. Cover with lid or aluminum foil, and bake 30 – 45 minutes.