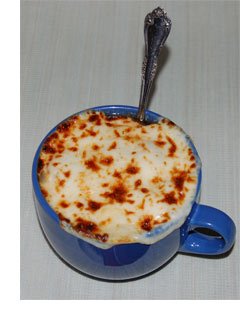 Here's a recipe we make regularly, especially on busy week nights. It's fairly quick to make, and we serve it as the main course for dinner. It can also be made as an appetizer, and should be placed in small bowls when used as the appetizer. This soup is simply wonderful with Vidalia onions, and spring is coming soon, so if you don't feel like making this now, print this recipe and keep until April when the Vidalia onions are in season.
Recipe for French Onion Soup
2-3 tbsps butter
1-2 large sweet onions
2 cans low sodium beef broth
unseasoned croutons
4-6 slices Swiss cheese or 1/2 cup shredded Gruyere cheese
Melt butter in large skillet
Cut onion in half. Put on cutting board flat side down and slice in thirds.
Thinly slice onion.
Cook onions until tender and slightly brown.
Put beef broth in saucepan with bay leaves and heat till hot.
Add cooked onions to hot beef broth and cook 3-4 minutes.
Put soup in large soup crocks. Top soup with croutons. Top croutons with
Swiss cheese.
Place soup crocks under broiler and cook until cheese is melted and lightly
browned.
You can subsitute chicken broth for the beef broth for an equally good French Onion soup.