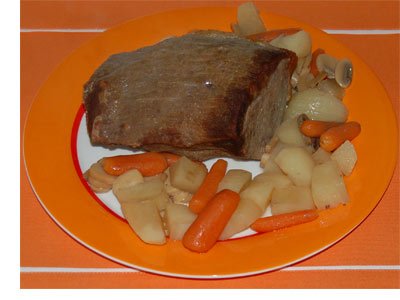 A beef Eye of Round roast can be an easy meal. There's not too much preparation, and you stuff the roast in the oven and wait for it to cook. What could be simpler? The cooking time depends on how big the roast is and as a guess we'd say an hour to an hour and a half would be usual.
We season our roast with Lawry's Seasoned Salt. If you don't have any Lawry's around, you can also simply season the Eye of Round roast with salt and fresh ground pepper [but you really ought to try Lawry's Seasoned Salt]. When we were young, and just growing up, it was always a treat to get the end cut of the roast, because that's where most of the taste and seasonings are.
Our recipe calls for placing the roast in a Reynold's oven bag. We find that the bag does a great job of holding the juices in so we end up with a juicy side of beef. You don't have to use the oven bag, and can do just as well with a pan with a lid, or by tightly covering the pan with aluminum foil. But, one of the benefits of the oven bag is the easy cleanup — everything cooks in the bag so there is nothing burnt onto the pan.
Lawry's Seasoned Salt
Adolph's Tenderizer
3-4 potatoes
15-20 baby carrots, can be cut in half
1 can sliced mushrooms
1 large sweet onion,
1 can low sodium beef broth
3-4 lb eye round roast
Reynolds Oven Bag (or aluminum foil)
Sprinkle Lawry's Seasoned Salt & Adolph's Tenderizer all over roast and
pierce meat all over.
Peel potatoes and cut into large chunks
Place roast in extra large oven bag
Peel and quarter onion.
Distribute the carrots, potatoes, mushrooms and onion in oven bag around roast.
Pour enough beef broth into oven bag to keep vegetables moist during cooking.
Put several slits in top of oven bag.
Cook until roast has an internal temperature of 165 degrees.