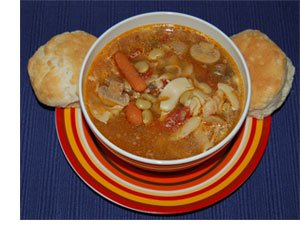 There's nothing secret to making a good homemade beef vegetable soup. It's really all about taking your time and letting the soup cook to allow the flavors to blend together.
We make our beef vegetable soup completely from scratch. There's no need for any of those kits from the grocery store. All you really need is to plan ahead, and make a beef broth first. Patience is called for in making this soup. So about 6 hours before serving, place 4 large beef soup bones in a large stockpot, and cover with water. Place over medium heat and begin to heat to a boil.
While the water is heating, dice up a large onion, and 1 1/2 cups of celery. Toss the onion and celery in the pot, cover, and bring to a boil. Once the water is boiling, reduce the heat, and simmer, covered, for about 2 hours [longer is better].
Using a set of tongs, remove the bones from the pot and place on a dinner plate. Allow to cool 5 minutes or more, or until you can handle. Scrape any marrow from the bones onto the dinner plate, and discard the bones. Add the marrow back to the stockpot.
Add the following to the pot:
1/2 pound of baby carrots (cut in half, if desired)
1/2 tsp thyme leaves
1/2 tsp rosemary leaves
2 cloves garlic, minced
1 tbsp parsley flakes
1/4 tsp fresh ground black pepper
3 medium sized turnips, peeled and diced (about 2 1/2 – 3 cups)
1 can diced tomatoes
Cover, bring to a boil, and simmer. Meanwhile, cut up a about 1 to 1 1/2 pounds of chuck roast into 3/4 inch chunks. Cook the beef chuck roast chunks in a covered, non-stick skillet, turning often, until cooked through. Use a slotted spoon to remove the beef, and add to the stock pot. Simmer the vegetable soup for 1 1/2 hours, then add:
2 cups frozen lima beans
1 cup egg noodles
Cook for another 15 minutes. Remove from heat, and allow to cool a little before serving. Serve with buttered toasted sourdough bread, or piping hot biscuits. You can add salt to the served bowls of Beef Vegetable Soup but we don't find it necessary.
Refrigerate any left over Beef Vegetable Soup, and add a little water when reheating. Beef vegetable soup always tastes better the next day.