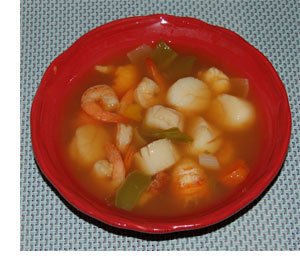 Back in the olden days, I worked in an Italian themed restaurant doing the low end chores that a lad of 16 would be offered. I actually had a fun time doing menial tasks, and the restaurant had a fun gang to work with. It was a really busy place too. Way back then there were 'themed' restaurants. At GD Graffitti Syndicated, the theme was a depression era sleep-easy.
The decor of GD Graffitti's was a late 1920's to early 1930's speakeasy. The waitresses and waiters dressed in gangster outfits, with the menu items appropriately named such as 'Lefty the Lobster.' It was a really popular restaurant with a stupendous salad bar that came with the meal. Remember that this was in the olden days, and this was the beginning of the salad bar. Even in the modern era you'd be hard pressed to find a salad bar that could match what Graffitti's provided, over 200 different items with at least 8 kinds of melons alone.
As part of being the hired help, we'd get a free meal at the end of the night. Generally everyone wanted the higher end foods, but to tell the truth they had a killer soup called Cacciucco that was offered as a main course. It was truly a great soup, and I ate it often. They made it in this huge steam pot that could hold 50 gallons or more of soup. Wow!
Over the years I thought about that soup alot, and my taste buds remembered it well, but I could never remember the name so that I could find a recipe. Well, I finally remember the name, and made the recipe last week, so here it is:
Recipe for Cacciucco Soup
This is a two step recipe.
Step 1 Stock
1 carrot, chopped into large chunks
1 leek sliced thin, white part only
2 cloves garlic, chopped
1 stalk celery, chopped in large chunks
2 tbsp Parsley Flakes
1 Bay Leaf
10 Black Peppercorns
1 can chopped clams
1 cup white wine
Put 2 quarts of water in a large souppot.
Add the remaining ingredients, except the wine.
Bring to a bowl, and then simmer for 30 – 45 minutes.
Add the wine, and allow to simmer 5 – 10 minutes to allow the alcohol to evaporate.
Step 2 – Soup!
1 small lobster tail (cooked)
1/2 lb codfish
1/2 lb mussels
1 small onion, chopped
1 can diced tomatoes
1/2 tsp Crushed Red Pepper
Cut the Lobster tail and the cod into bite sized pieces and add to the stock.
Add all other ingredients (except the mussels), and simmer for 20 minutes
Wash the mussels and add to soup. Cook for about 10 more minutes.
Serve with fresh breadsticks and garlic-butter.