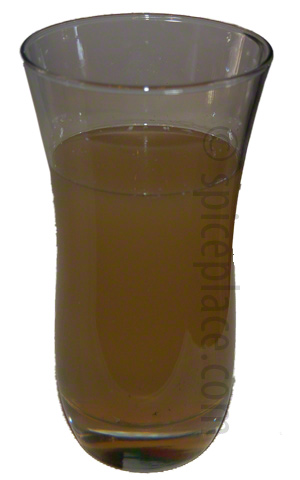 This delicious golden Homemade Chicken Broth is versitle in the kitchen. Use this broth
as a base for Chicken Noodle Soup, in mashed potatoes, in Ramen Soup in place of the little packet of fake flavors, as the flavor in chicken gravies, use in place of water when making rice, etc.
Many years ago, we used to make one big pot of chicken soup, adding all of the ingredients and ending up with, well, a lot of chicken soup. If you make a nice flavorful chicken broth first, you get an ingredient you can use to flavor lots of other recipes. So these days, when we're planning on making a chicken soup, we first make a broth, and strain it (reserving the chicken meat). Then we measure out enough of our magic golden liquid to make just enough chicken soup for our family's meal, add some meat, shredded carrots, celery, onion and noodles (Matzo balls). All done, and we have a lot of Chicken Broth left over to use to flavor many more meals.
Here is our simple recipe for making tasty Homemade Chicken Broth:
Rinse the chicken thighs and place in a large pot.
Prepare the vegetables. Don't fret too much about chopping them nicely. We're only using them for flavor, and they'll be discarded when done cooking. Add all of the vegetables to the pot.
Fill the pot to within 1″ of the top lip.
Cover, and bring to a boil over high heat. Reduce heat to keep the broth at a low simmer. Cook covered for 4 to 6 hours.
Place a large wire mesh colander in another pot large enough to hold the liquid and strain the broth.
Pick the chicken thighs from the colander and remove the bones and skin. Shred the meat by hand or use a knife to chop. It's very tender and should fall right off of the bones. Discard the vegetables, chicken bones and skin.
For a clearer broth, rinse the colander well, line with cheese cloth and restrain.
If time permits, let the broth cool, then chill in the refrigerator. When completely chilled, scoop any of the solid white fat that forms on top.
Use as desired.
Quick Ramen Chicken Soup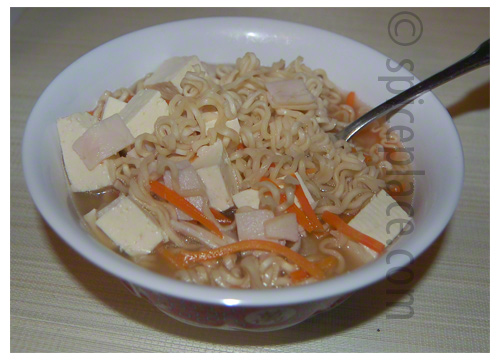 1 1/2 cups Homemade chicken broth
2 tbsp shredded carrots
1 tbsp chopped celery
1 tbsp chopped onion (or 1/2 tsp dehydrated chopped onion)
1/3 tsp McCormick Chinese Five Spice
Noodles from a package of Ramen Soup (discard flavor packet)
1/3 cup diced firm Tofu
1/3 cup chicken meat
Add the Homemade Chicken Broth to a medium saucepan. Add vegetables and bring to a boil. Reduce to a simmer, and cook vegetables for 2 minutes.
Add Ramen noodles, and Chinese Five Spice. Set timer and cook noodles for 2 minutes.
Remove from heat, add tofu and chicken.
Pour into a boil and enjoy.
Author: Matthew Schroebel