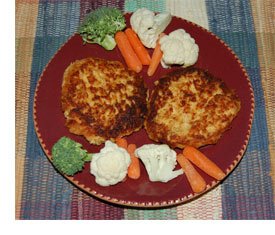 McCormick's Old Bay Salmon Classic makes great Salmon Cakes simple. McCormick's blend of seasonings in Old Bay is always great with seafood.
All you need to do is open up a can of salmon, mix in the Old Bay Salmon Classic and some mayonaisse, form the cakes, and then fry until crisp. It makes a simply delicious salmon cake in a jiffy. With Old Bay Salmon Classic, you can go from thinking about what to make for lunch, to eating a delicious salmon cake in just 10 minutes.
Heat a 1 tbsp canola oil in a skillet.
While oil is heating mix the salmon with the Old Bay Salmon Classic mix.
Mix the mayonnaise into the salmon mixture.
Make 4 large salmon patties.
Test heat of oil by placing a drop of water in the oil. If the water sizzles
in the oil the oil is ready.
Place the salmon cakes in the skillet.
Cook about 2-3 minutes per side or until golden brown on both sides.
Can be served on a bun as a sandwich or by themselves.
Serve with tarter sauce, and your favorite vegetable such as lima beans.
The Salmon Cakes can be broiled as well.