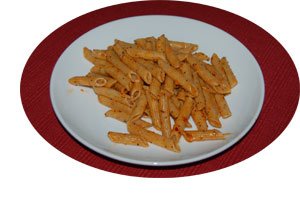 Here's a way to make a delicious pasta salad with ease.
We make our Supreme Pasta Salad using whole wheat pasta which fits the lower carb craze, is nutritionally better than semolina pasta and is high in fiber. For all of those reasons we tend to lean toward whole wheat choices in all of our daily cooking.
Recipe for McCormick Salad Supreme Pasta Salad
Ingredients:
Directions:
Cook pasta according to directions on the package. You can use any pasta that you find appealing.
Add the Italian salad dressing to a 1 cup Pyrex measuring cup. Mix in McCormick Salad Supreme Seasoning. Mix until well blended.
Drain the pasta, and place in a suitable sized bowl. Pour about half of the Salad Supreme / Salad Dressing mix over top, and mix. Then pour the remaining Salad Supreme mix over the pasta and mix until pasta is thoroughly covered. Make sure to mix gently so as not to damage pasta.
Cover and refrigerate for 2 to 3 hours, mix, and serve cold.
| | |
| --- | --- |
| Here's a picture of McCormick Salad Supreme Seasoning. It's color is quite red, which comes from the paprika, but it also has Romano cheese, sesame seeds, red pepper and other spices. You can click on the image to see all of the product information in our store. | |