This recipe adds several twists to the standard coleslaw. First it adds bell & jalapeno peppers to the mix, something I've never done before. Second, it uses McCormick Big n' Bold Santa Fe Style Seasoning for flavor. And third it adds kidney beans, rich in taste and fiber. So for those reasons, it's worth the adventure of trying this healthy coleslaw. Fiber with Flavor sounds (and tastes) healthy to me!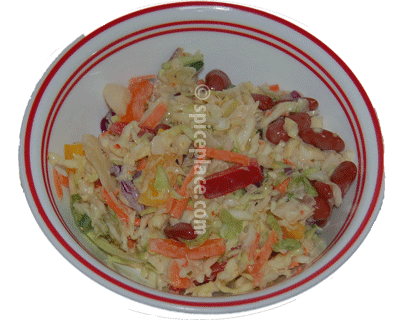 4 Cups shredded cabbage
1/4 cup shredded carrots
1/4 cup julienned red bell peppers
1/4 cup julienned yellow bell peppers
1/4 cup julienned green bell peppers
1 can Red Skinned Kidney Beans, Drained, and Rinsed
1/4 cup Jalapeno peppers, diced
1/4 cup diced onion
3/4 cup mayonnaise
1 tbsp sugar
1 tbsp McCormick Santa Fe Style Seasoning
Combine peppers and kidney beans together. Mix well.
Make dressing by mixing mayonnaise with sugar and Santa Fe Seasoning.
Combine cabbage, carrots, onions, peppers, kidney beans together. Mix well.
Mix in dressing and mix to coat well.
Refrigerate for 40 minutes or more to allow flavors to meld together.
Serve Chilled.