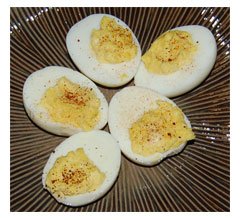 Since spring is here, and picnic season is right around the corner, we thought we'd share our world class Deviled Eggs recipe. This is a recipe of one of our employees, and they are always a hit when we have pot luck luncheons.
To make the hard boiled eggs called for in this recipe, place the eggs in a large pot and cover with tap water. Place on the stove, and bring the water to a slow boil. Cook for 10 – 15 minutes at slow boil, then remove from heat. Carefully place pan in sink, turn on the faucet, and add cool water until the water is cool enough to safely drain. Carefully place eggs in a large bowl to cool.
Deviled Eggs Recipe
12 Hard Boiled Eggs
1/2 tsp salt
1/2 tsp ground black pepper
1 tsp dry mustard
1/2 cup tbsp light mayonnaise
Ground paprika

Cook eggs until they become hard boiled.
When eggs cool enough to handle peel off the shell.
Slice eggs in half length wise.
Scoop out egg yolks into a bowl.
Mash egg yolks with a fork.
Add to the mashed egg yolks, the ground pepper, dry mustard and 4 tbsp mayonnaise.
Mix egg yolk mixture well, and add more mayonnaise to get desired consistency.
Spoon the deviled egg mixute into the opening ih egg white.
Sprinkle top of deviled eggs with paprika for flavor and presentation.
Keep deviled eggs refrigerated until ready to serve.
Makes 24 Deviled Eggs.