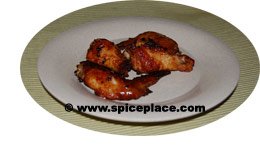 Fish sauce (or Nuoc Mam Nhi) is one of those seasonings that we don't find as a standard item in most kitchens in America. There's probably a lot of people that would toss it out simply because of the smell. But if you've ever eaten at a Chinese restaurant, the odds are you've ate this seasoning. To most Americans the smell of fish sauce would be a turn off, but when added to foods the smell vanishes and a delicious flavor results.
So here's is a delicious Oriental Seasoned Chicken Wings recipe that gets it's taste from two Asian sauces, fish sauce and oyster sauce. If you have neither of these in your kitchen cabinet then go out shopping for them at an Asian market, start with the lower priced ones first. Believe it or not, the lower cost fish sauces smell less.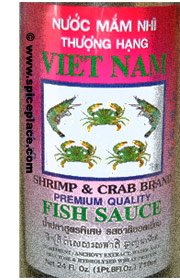 Ingredients in Oriental Seasoned Chicken Wings
To make Oriental Seasoned Chicken Wings
In a Pyrex cup, mix the soy sauce, fish sauce, oyster sauce, ginger, garlic, onion flakes, and sesame oil together. Blend well. Set aside to allow flavors to blend together.
Disjoint or cut the chicken wings into little drumsticks and wing sections.
Wash the chicken pieces, then place in a large ziploc storage bag.
Pour the soy sauce / fish sauce marinade into the ziploc bag, seal, then flip over a few times to distribute the marinade over the wings.
Place the wings laying flat in refrigerator and let marinate for 2 hours. Turn over every 20 – 30 minutes.
Preheat oven to 450° F.
Place the marinated chicken wings on a baking pan that has been covered with non-stick aluminum foil. Try not to let the chicken wings touch together.
Bake for 25 minutes on a side.
These Oriental Seasoned Chicken Wings could also be served as an appetizer.