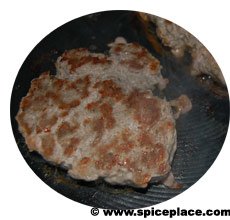 We like to have breakfast sausage every once in a while. Yet often the brands at the grocer are laden with fat. We do know of
one brand
that is fairly lean, but most store bought sausage is very fatty. It seems the manufacturers often can resist the tendency to want to use up the fat and make something off it. Often you hear that the fat is required for the taste. We haven't found that to be the case at all, and make our own sausage using store bought ground pork.
Sometimes we find a nice looking pork butt roast, remove as much fat as possible and then grind it up ourselves in our meat grinder. This is a great way of really making sure the butcher isn't trying to make something off their fat just like the sausage manufacturers do! If you don't have a meat grind though, you can ask your butcher to trim off the fat before grinding the pork butt, and tell them you'll pay for the fat on the side. Personally, I like being in control of the grinding and making absolutely sure I can get rid of as much fat as I can. An honest butcher will do as you ask and make you a nice lean ground pork.
We happen to have a sausage stuffer too and sometimes make stuffed breakfast sausage. It's a lot of work to stuff your own sausage and yet it's rewarding since you know what's in the sausage isn't loaded with fat. This article is about make homemade sausage patties so we'll reserve the discussion on making sausage links for a future article.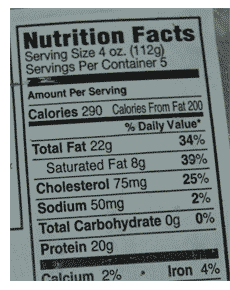 We started our homemade breakfast patty sausage using store bought ground pork. According to the nutrition facts on the pork, the amount of fat per 1/4 pound of ground pork is 22g which is 34% of the daily value. Readers might think that value is high, but that amount is for a 4 ounce serving. The typical fat content of packaged breakfast sausage is 22g per 2 oz serving, so the fat in our homemade pork sausage is about half of the fat in prepared sausage. The proof of this is in the picture above of our sausage cooking in the skillet. Take a look closely and you'll see that there is no excess fat around the sausage. Keep in mind too, that we're using store bought ground pork and the butcher just can't resist the opportunity to get $4.00 a pound for fat. If we ground our own pork, and removed all of the visible fat then we could easily have cut the fat in half again.
What you need to make homemade sausage patties
1 to 1 1/4 pounds lean ground pork
1 tbsp very finely diced onion
1/4 tsp ground white pepper
2 tbsp parsley flakes
1 tsp ground sage
1/4 tsp chervil
1/4 tsp marjoram
1/4 tsp savory
1 tbsp water
Place all of the ingredients in a large bowl and mix well with your hands. Form into 5 to 10 patties depending on your preference. Cook over medium low heat in an ungreased non-stick skillet until browned, turn and brown the other side.
Make sure to notice how little fat is left in the pan when you're done cooking these patties.