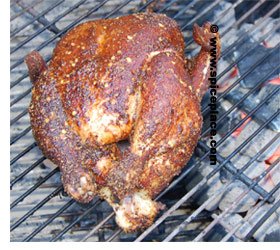 Often when we season foods for the grill we consider using spice blends like McCormicks Grill Mates and Durkee Grill Creations. While those are excellent seasonings, we like variety in our cooking and often wander off the beaten path and venture into our own seasoning wilderness. So yesterday, we came up with this recipe for Maryland Grilled Whole Chicken.
If you're familiar with Maryland, you'll know that it's one of the largest producers of chicken in the world, and is home of the famous Perdue brand of chicken. Just as the Carolinas are known for their barbecued pork, Maryland is known for grilled chicken. During the summer weekends, the local benevolent societies like the Elks, Moose, VFW, and churches set up outdoor barbecues on roadsides where they serve grilled chicken. I can smell the chicken cooking now.
This chicken is seasoned with a dry rub and then basted frequently with a seasoned mop sauce. It's cooked indirectly, and turned around everytime it's basted so it's cooked evenly. While we made a whole chicken, this recipe can easily be adjusted for chicken pieces by simply adjusting the cooking time.
Mop Sauce Ingredients
Dry Rub Ingredients
To make Maryland Grilled Whole Chicken
Place 25 to 30 Kingsford charcoal briquets on one side of a coverable grill. Apply lighter fluid, and light the charcoal.
Mix up the mop sauce in a 2 pint Pyrex measuring cup, or other glass container.
Place the dry rub ingredients in a 1 gallon zipper storage bag.
Wash and pat dry the chicken, place the chicken into the storage bag, and shake to evenly coat the chicken with the dry rub.
When the grill is lighted, place the chicken about 6 inches away (horizontally) from the hot coals [don't place the chicken over the coals] so that the chicken cooks slowly. Baste with an initial coat of th mop sauce. Cover the grill and close the vents to about 1/2 way.
Baste with the mop sauce every 15 minutes. Rotate the chicken at each basting of mop sauce to cook the chicken evenly.
Cook for about 1 1/2 hours. Check for doneness with a meat thermometer. The temperature should read 175° F when done.
Remove from grill, and let rest about 10 minutes before slicing.
Serve with your favorite barbecue sauce.
If cooking chicken pieces, cook them indirectly as well, and turn and baste at 15 minute intervals.