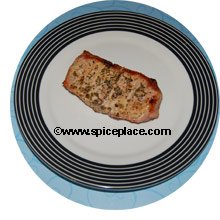 If you're looking for a simple recipe, that cooks fast, and is tasty, consider this recipe for Italian Mustard Pork Chops. It's so easy to make, and they're something to enjoy. Honestly, before someone told us to try this recipe, we had never considered seasoning pork chops with mustard or Italian seasoning. But the flavor of these is simply delicious. We grilled our pork chops, but these could either be pan fried or broiled instead.
Italian Seasoned Pork Chops Recipe
4 centercut boneless pork chops
Prepared mustard
Italian Seasoning
Spread some mustard over the top of each pork chop. Sprinkle tops of each pork chop with a little Italian seasoning blend. Grill, fry, or broil until thoroughly cooked. Serve with mashed potatoes or potato salad, and a garden salad.