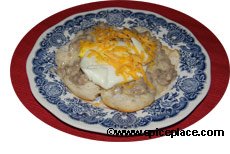 If you like waking up on Sunday morning to a hearty breakfast, then this recipe is for you. Now, it's not something you want to eat everyday since it's made with sausage but it's so tasty it's worth having a couple times a year.
When we're feeling lazy, we use Pillsbury Grands biscuits from the refrigerator section of the grocery store. But there really isn't much to making drop biscuits from scratch so when we don't have a refigerator ready biscuit tube on hand, we make homemade biscuit dough in about five minutes.
Preheat oven to 400° F
Brown a one pound breakfast sausage roll in a large non-stick skillet. While cooking, chop up into fine pieces similar to ground beef used in spaghetti sauce.
Place biscuits in oven, Grands cook in about 12 minutes.
Add 1/2 cup chopped onion to the sausage, and cook for 2 minutes.
Sprinkle 3 tbsp flour over the top of the sausage and onions, turn frequently, and cook for another minute.
Add 2 cups low fat milk to the pan, and cook over medium heat stirring frequently until sauce thickens, about 10 minutes.
Break up the cooked biscuits into 1 to 2 inch chunks, and place a few pieces in the bottom of a bowl.
Top the biscuit chunks with the sausage and gravy. Sprinkle a little shredded cheddar cheese on top. Add a cooked egg if desired.