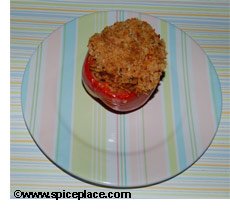 Since it's summer and the vegetables are rolling out of the garden quite regularly, we thought we'd share a recipe of our for Stuffed Bell Peppers. We've enjoyed this recipe for years, and it's been handed down a couple time throught our family. I'm sure we've made adjustments to this recipe over time, and this is our current formulation of Stuffed Bell Peppers.

Stuffed Peppers Ingredients
The number of steps listed below make this look like a complex recipe but honestly stuffed peppers are a simple meal to make.
3 or 4 large peppers (We prefer red peppers because we feel they have a sweeter taste than green peppers but, they can be any color you choose.)
1 pound lean ground beef (or ground turkey works as well)
1 small onion chopped, finely
1 tsp fresh chopped garlic (We prefer to use Nina's chopped fresh chopped garlic because it's so easy to use and for some reason imparts a better garlic flavor into foods)
16 ounce can tomato sauce
1/4 tsp fresh ground pepper
1 cup uncooked basmati rice
14 ounce can low sodium beef broth
1/4 cup unseasoned fine bread crumbs
2 tbsps Parmesan cheese, grated
2 tbsps butter, melted
To make Stuffed Peppers
Place beef broth in a saucepan and bring to a boil.
Add the basmati rice to boiling beef broth. We prefer basmati rice and you're welcome to substitute your favorite rice instead of basmati.
Reduce heat to simmer and cook for 12 – 15 minutes.
Cook lean ground beef (or turkey) with black pepper, chopped onion and garlic.
While rice and beef are cooking you can cut the tops off the peppers and remove the seeds. If you want to speed up the cooking time at the end you can blanch the peppers first but cooking in boiling water for about 5 minutes.
If necessary drain any grease from the cooked ground beef.
Mix the cooked basmati rice with cooked ground beef.
Add tomato sauce to beef and rice mixture. Only add enough to bind the beef and rice together. (Depending on what our mood is and what I have on hand in the pantry I may use tomato soup which is not as zesty as sauce or beef broth)
Melt butter in a microwave oven.
Add bread crumbs and Parmesan cheese to melted butter. This will create a crumb topping for the stuffed peppers.
Place cooked beef and rice mixture into peppers.
Top peppers with crumb mixture.
Cook stuffed peppers for 1/2 hour at 350 degrees (if you blanched the peppers first) or for 1 hour at 350 degrees (if peppers were not blanched first.)