Royal Basmati Rice, 25 lbs 11.34kg
New larger 25 pound size bag of Basmati rice. 5 pounds more rice!
Premium Long Grain Basmati Aged Rice. Naturally Aromatic and from the Foothills of the Himalayas where basmati rice has been grown for centuries. Royal Basmati Rice is grown in the fertile soils of the Himalaya mountain foothills and nourished by the pure water from the highest snow-covered peaks in the world. There are some basmati rice varieties that are grown in other parts of the world, but it's our opinion at Spice Place that the other basmati rices cannot compare with authentic basmati rice from India.
We feel that Basmati rice is one of the treats of the world. It's a light long grain rice with a rich taste and doesn't stick together. As with all of the products we sell this basmati rice is a bulk 25 pound bag.
To cook basmati rice, bring 2 cups of water to boil in a sauce pan. Add 1 cup basmati rice. Cook covered for about 10-12 minutes. Check if the basmati rice has absorbed all of the water, if not allow to cook a few minutes longer - watch carefully so as not to burn the basmati rice. To make more that 1 cup uncooked basmati rice, use twice as much water as uncooked basmati rice.
For recipes that call for specific quantities of cooked basmati rice, 1 cup uncooked basmati rice plus 2 cups water yields 3 cups cooked basmati rice.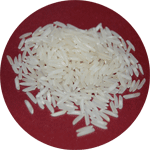 Product of India
Ingredients: Basmati Rice.

Net Weight: 25 lbs 11.34kg
Tiered Product Pricing
Quantity
Description
Price
Each
Unit Price
$31.83USD
3
3 or More
$30.13USD
Royal Basmati Rice
Nutrition Facts
Serving Size: 1/4 cup 45g
Servings Per Container: About 251
Amount Per Serving
Calories 150
Calories From Fat 0
% Daily Value*
Total Fat 0g
0%
Sodium 0mg
0%
Total Carb 35g
12%
Dietary Fiber 0g
0%
Sugars 0g
Protein 3g
*Percent Daily Values (DV) are based on a 2,000
calorie daily diet. Your daily values may be higher
or lower based on your calorie needs.
Product Ingredient Lists and Nutrition Facts, when provided, are for your convenience. We at Spice Place make every effort to insure accuracy of the ingredients listed. However, because manufacturers may change formulations, persons with food allergies should always check actual package label.