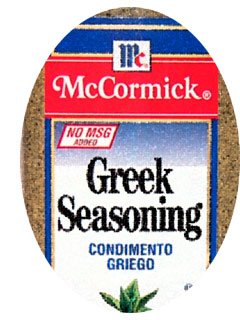 A new spice blend we have at Spice Place is McCormick Greek Seasoning. This is a spice blend with mint, garlic and other spices that is great for adding new flavors to your meals. We've made a few recipes using McCormick Greek Seasoning, and all have been a hit. So we can highly recommend this seasoning to anyone that likes flavorful foods. Greek Seasoning isn't spicy hot — it's simple a spice blend with great Mediterranean taste.
We're really impressed with the seasoning, so you can expect to see more recipes here that incorporate Greek Seasoning. We'll start with the first of three easy to make recipes today.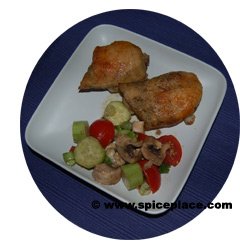 Recipe for Greek Marinated Chicken
Mix the vinegar, olive oil, and Greek seasoning together in a pyrex cup.
Wash chicken well, and place in a 1 gallon Ziploc bag.
Pour the Greek Seasoning mixture over the chicken, seal the boag, and roate to spread the seasoning over the chicken.
Place bag in refrigerator, and marinate for 2 – 3 hours, flipping the ziploc bag over ever 30 minutes so that the marinate gets evenly distributed over the chicken.
Remove chicken from the ziploc bag, place on a baking dish, cover and bake at 350° F for one hour. Remove cover during last 15 minutes.
Serve with Greek Garden Salad