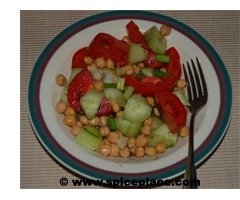 This is the recipe related to our Greek Marinated Chicken Recipe. Serve this Greek Salad with the baked Greek Marinated Chicken recipe or anytime you want a seasoned salad. It has a deliciously different taste from most salads.
Greek Salad Dressing
3/4 cup vinegar
1/3 cup olive oil
Mix all ingredients together and let sit for 15 minutes.
To make Greek Garden Salad
Combine the following in a bowl then sprinkle the Greek Salad Dressing over top: Peel cucumber, and slice in half lengthwise. Cut into half-moon slices about 1/4 inch thick. Chop tomatoes into chunks. Dice an onion fine. Wash spring onions, and dice fine. Drain a can of Chick Peas. Enjoy.