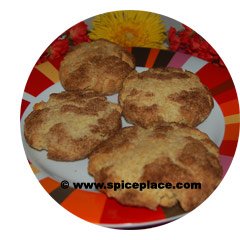 While Snickerdoodle cookies have an unusual name, these rich cinnamon-sugar cookies are great for a holiday treat. They are a sweet sugar cookie with a coating of sugar and cinnamon. Easy to make, just mix, roll into a ball, roll the snickerdoodle balls in a mix of sugar and cinnamon then bake for 8 – 10 minutes.
1 1/2 cups sugar
1/2 cup butter, softened
1/2 cup shortening
2 eggs
2 3/4 cups all-purpose flour
2 tsps cream of tartar
1 tsp baking soda
1/4 tsp salt
1/4 cup sugar
2 tsp ground cinnamon
Preheat oven to 400ºF.
Cream together 1 1/2 cups sugar, the butter, shortening and eggs in a large bowl. Stir in flour, cream of tartar, baking soda and salt.
Roll Snickerdoodle dough into 1 1/4-inch balls.
Make the Snickerdoodle topping by mixing 1/4 cup sugar and the cinnamon.
Roll balls in cinnamon-sugar mixture. Place cookie dough 2 inches apart on an un-greased cookie sheet.
Bake Snickerdoodle Cookies for 8 to 10 minutes or until set. Remove Snickerdoodles from cookie sheet to wire rack and let cool.