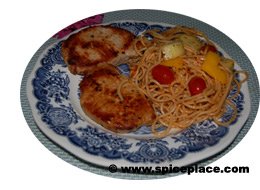 Want something that's quick to make on a weeknight, and yet has great flavor and nutrition; then try this recipe for Cajun Seasoned Pork Chops. In only takes about 20 minutes to cook the chops, and meanwhile you're making the pasta salad, which is a jiffy when made with Salad Supreme®.
Recipe for Cajun Seasoned Pork Chops
This recipe is so easy, I'm not sure if it really should be called a recipe!
1 – 2 Center Cut Pork Chops [per serving], all visible fat removed
Place 1 tbsp of olive or canola oil in a non-stick skillet, and heat over medium heat for 1 minute.
Reduce heat to low. Add the pork chops, and sprinkle with Cajun Seasoning.
Cover pan, and cook 8 – 10 minutes, depending on thickness of the chops, until lightly browned. Thin chops made need less time. Turn, season other side with Cajun Seasoning and cook other side about 5 – 7 minutes.
Serve with Pasta Salad (recipe below).
---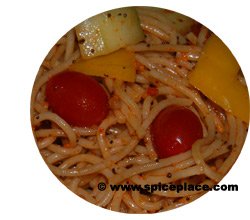 Pasta Salad with Garden Vegetables
1/2 pound spaghetti noodles
1 tbsp McCormick Salad Supreme
1/2 cup Italian Salad Dressing
Cherry tomatoes
Sliced cucumber
Sliced baby carrots
Sliced bell pepper
Cook pasta according to package directions.
Meanwhile, prepare the vegetables. Mix 1/2 cup Italian Salad Dressing with the Salad Supreme.
When pasta is cooked to your desired liking, cool it under cold running water and place in a serving bowl large enough for the pasta, and vegetables.
Add the vegetables to the pasta and mix.
Pour the Salad Supreme/Italian Dressing seasoning over top of the pasta and toss gently to season pasta and vegetables.
Sprinkle each serving with freshly grated Parmesan cheese.
Salad Supreme® is a registered trademark of McCormick & Co Inc, Hunt Valley, Md 21031